I feel like I run out of things to talk about. I'm pretty boring. I'm done with school for now, so I don't even have that to whine about. Even I get tired of writing about my cats, even though they are the most awesomest kitties. Like,
EVAR
.
In a funk, I guess. Sigh.
MDA (Muscular Dystrophy Association) has a new ... panel thingy or site or something for adults with MD. It's mainly geared towards younger adults, I think. I thought about linking up my blog, in an effort to create some kind of incentive to write more. But I realized that I don't write about my ataxia very much, I don't make it a focus of a single post very often. Sometimes, I wonder if I am treating it like an elephant in the room, though. If any of you ever have a question, please ask.
At the very least, it'll be fodder for another post!
I finally watched all of the episodes in the first half of this season of "Doctor Who". I get the episodes through iTunes and, because I am not particularly patient when it comes to this sort of thing, I wait to watch until I have all the episodes, so I can watch them back-to-back (a season/series (if you're a Brit) of DW is usually/often split in two parts, with a fairly epic special at Christmas). I am ... um ... pretty traumatized by this last episode. I honestly teared up. I don't know if I'll be okay by Christmas.
Hi. I'm a nerd.
That reminds me of 1st grade. The same reading book was used by several grade and each grade would read from different chapters or areas in the. It was like 29 years ago (I am old, y'all) but I think the reader was called "Sounds of a Young Hunter" or something equally odd. Hang on, I just remembered that Google is a thing ...
HA!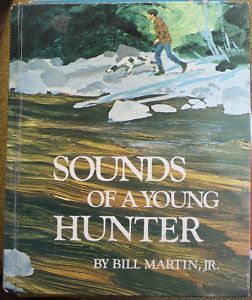 It's on eBay! Oh man, now I need to troll eBay for childhood nostalgia. I already have a vintage "Alphie" and a complete set of Smurf glasses.
I digress ... I was flipping through the reader and saw a story about a mouse. It was in the big kids section but I decided to read it and, as Christmas break happened soon, it was the perfect time to read the story. And, since my Grandma had bought me a new book about dogs for break, I'd never get bored!
I remember planning the vacation out by which book I would read when. First, I would read the dog book -- "Where the Red Fern Grows" and then the mouse book -- "Flowers for Algernon".
Um.
People.
I had no warning. None. These books ... destroyed me.
Devastated
me. My little 6-year-old heart was completely shattered. I think I cried until Valentine's Day.
God, I love those books.